So back at the start of October (the 13th to be exact), I gave a presentation about Suura to the Big Ideas '09 conference (as those of you on LinkedIn might have spotted). It was definitely something new – I've been in a client-facing role before, but standing up in front of 150 VCs is a different kettle of fish, and the nine or ten one-on-one interviews with various people that followed were equally intense (albiet in a different mode).It's definitely odd to see yourself in the promotional brochures for an event…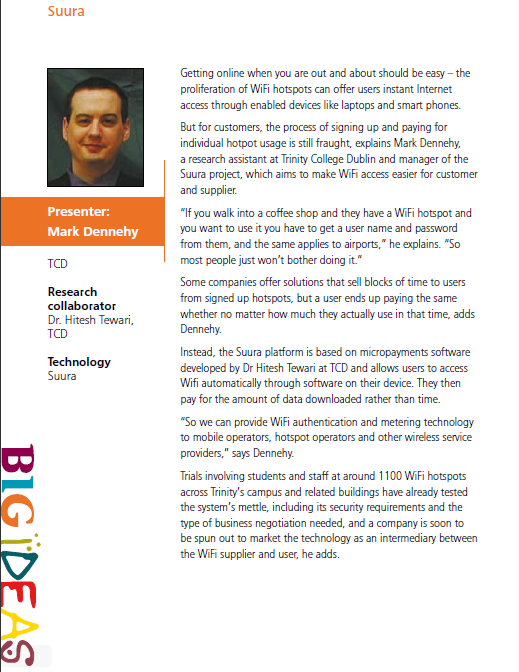 …but if that was intimidating, the presentation is even worse. Imagine this view, but fill every seat with someone who might be looking to invest in your startup…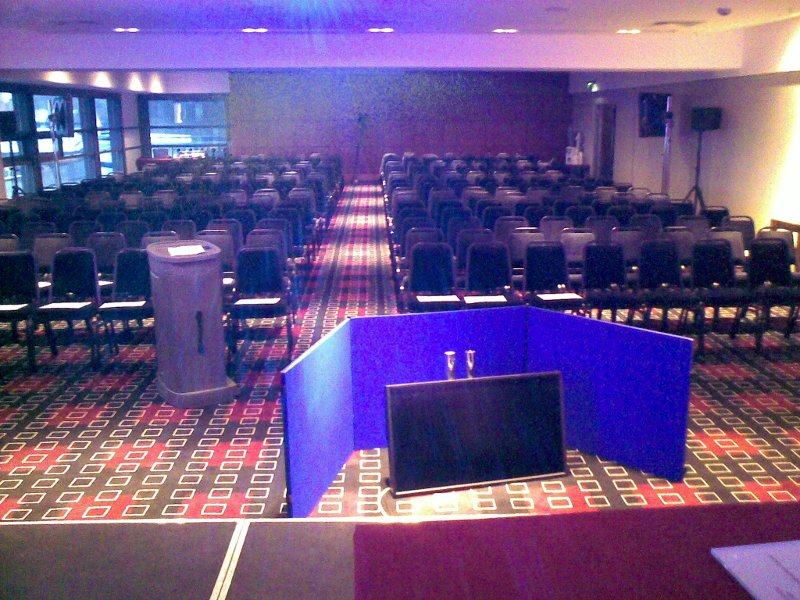 The large screen at the bottom was meant to show you your slides (which were also displayed behind you) so you didn't have to turn round and ignore the audience in order to remember what was on them. What you can't see in that photo (and what a few presenters who stepped two steps forward past the podium couldn't see either) was the traffic light system on the podium letting you know when your ten minutes of fame was over; and when your presentation refused point-blank to fall below twelve minutes despite rehearsing until 0200 the night before, that's a worry.
Enterprise Ireland did actually put together a communications training day for the presenters, bringing in Yanky Fachler of High Octane Communications to act as a tutor for the day. I found that it was aimed a bit more at the fundamentals than I needed myself (I'd done a fair amount of lecturing and client-facing work and presentations before I joined Suura) but it seemed very useful for a lot of the other presenters and there are quite a lot of free resources online for presenting to VCs (the one from TED is a bit boring to listen to but has some excellent points in it). I would have preferred to have had more notice that I was going to give the presentation so I could have gone to the training day with some better-prepared work, but that wasn't EI's fault, it was down to miscommunication on our end. Such is life.
The presentation itself went off in about nine minutes. Nerves have a wonderful way of speeding you up 🙂 There was one technical hitch when a graph, which was rather a pivot point in the presentation, didn't display on the screen. But it was not as bad as the technical hitch which almost happened – ten minutes before I was due to talk, one of the organisers found me to let me know they didn't have the slides for my presentation (it later turned out that they'd fallen into the spam filter when I'd sent them by email the night before. I had sent them much earlier, by the way, but there were format issues that it took a while to resolve). Now if that won't concentrate the mind, nothing will 😀
The thing about presentations like this is that you basicly have to do them to learn how to do them. I've stood up in front of two hundred second-year engineering students and given short lectures, I've led day-long courses for twenty to thirty students, I've done tutorial work for groups of about fifty or so, and I've done a lot of client meetings where there's a chunk of change on the line; but these presentations are basicly all of those rolled into one, and you've got to be mercenary. The one mindset change that Yanky did get across very well was that this isn't like a lecture (where you're trying to tell the audience something they don't know), or a client meeting (where you're trying to convince the audience that you can solve their problem), it's a mix of both – you're trying to tell the audience that you've got a problem that they can solve, either by funding you or, as in our case, by helping us with the business side of things. And they want to do this (or they wouldn't be there), so you have to help them decide who they're going to help…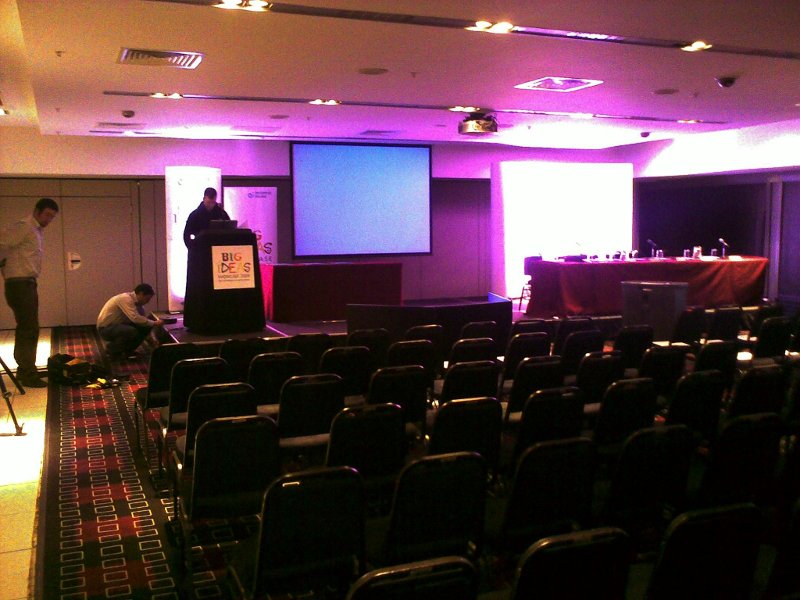 That stage is a rather lonely place 🙂 The temptation, of course, is to do what lots of lecturers tend to do, and cope with the loneliness of the stage by putting up over-complex slides, which they then talk to (instead of talking to the audience) in order to avoid needing the enormous ego it feels like you'd have to have to demand the attention of that many people. This is where Yanky's mindset change was especially useful, because it makes the point that you are not being egotistical by taking their attention – you're just doing the job.
What you want to do is to have minimalist slides – literally only a few words. The 10/20/30 rule is a good one here — no more than 10 minutes; no more than 20 slides; and no font on the slides that's less than 30 point in size. This helps to make you the focus of the audience. This is quite important because in a talk like this, they're only partly interested in the product or company you're talking about – they're also very interested in evaluating you because at the end of the day, you're a large factor in whether or not the company will succeed, and if they're going to choose to help you, they'll want to know if you can cut it. You won't convince them in a ten-minute talk, but you can at least give them a glimpse, especially when you're competing with nineteen other presenters – they can't talk to everyone, they're looking for someone who'll talk to them instead. I didn't have the best presentation technically – there are limits to what you can do in Powerpoint, and I prefer Impress, though I hear great things about Keynote – but I'm reasonably happy with it:
There was also a Q&A session after each group of presentations (hence the panel table to the right of the main stage). The idea was that the 20 presentations were broken up into four sections of five presentations each, and after each section, there'd be a Q&A session (as opposed to having Q&A after every presentation). This worked quite well, and I had one or two interesting questions during the session. The whole affair (presentation and Q&A session) was videotaped and is being edited at the moment and is due to go up on youtube some time in the new year.
After the presentation and the Q&A session came a long series of one-one-one interviews, ranging from a half-hour to nearly an hour with various attendees, including a few candidate CEOs for Suura (one of whom, Arthur Cagney, has since come on board to help us get to market). The problem with all of this was that I was a bit ill a few days beforehand – I had been out the whole weekend with some sort of 'flu bug (no oinking though!) and while I was getting back on my feet by the Tuesday of the exhibition, I wasn't quite 100% – and the full day's presenting and talking tore up my voice quite a bit, so that I was hoarse by lunchtime and out-and-out unable to talk by day's end (I was literally gargling with coffee during much of the day). And right at the end of the day, there was an on-camera interview to do as well (I was the last presenter interviewed, even though I was one of the first presenters up that morning). So as a result, as you can see below, I looked like I'd been punched in both eyes, sounded like I'd been punched in the throat, was pale enough to mess up the white balance of the camera, and barely managed to remain upright for the entire interview 😀
After this point, I went home and couldn't speak for nearly three days. But, it was worth it. We had a fair amount of interest shown, made a number of useful contacts, and Suura has made a lot of progress as a result since. We even got a mention on the Six-One news that night (though my segment didn't make the air. Well, I do have a face for radio 😀 Didn't get mentioned when The Business did an article on it on Radio One though, but then my voice wasn't up to radio that day either!)
Overall it was a very good day, and the Enterprise Ireland team did a good job organising it. Plus, I got to wander around Croke Park for the day and what Kerryman doesn't like to do that? 😀